Board of Trustees
January 24, 2019 Special Board Meeting

---

Please select your school below to begin the 2018-2019 California School Parent Survey
Por favor seleccione su escuela para comenzar la Encuesta para los Padres de Escuelas en California 2018-2019:
---
Denair Elementary Charter Academy Continues to Shine; Kindergarten Applications Can Be Picked Up Jan. 22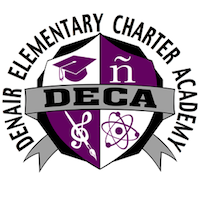 Submitted by Denair Elementary Charter Academy:
Denair Elementary Charter Academy is a great place for students to start or continue their education.
The school features traditional as well as dual language immersion instructional tracks for kindergarten through fifth-graders, plus a transitional kindergarten program.
Youngsters are exposed early on to the importance of attending college, there is a wide range of fun and important electives and afterschool activities, and emphasis is placed on being safe, responsible, respectful and kind.
All this occurs on a pretty and well-maintained campus under the direction of an experienced staff passionate about educating students.
Word of DECA's success continues to spread, with more than a third of its 558 students coming from outside the Denair Unified School District boundaries.
<Continue reading at DenairPulse>
Share this:
---
A new middle school math curriculum that has shown promising results during a pilot period this year moved one step closer to formal adoption at Thursday night's meeting of the Denair Unified School District Board of Trustees.
Known as enVisionmath 2.0 Common Core, the program is a comprehensive mathematics curriculum for grades 6–8. It uses problem-solving, interactive experiences and visual learning to engage students. Personalized math practice, built-in interventions, and customizable content deepen understanding and improve achievement.
Denair Middle School math teachers David Rodriguez and Anthony Narsi have been using the program since last fall. They told trustees they believe it will help to improve students' math skills and, ultimately, their performance on state tests, which has been a concern in the district.
<Continue reading at DenairPulse>
Share this: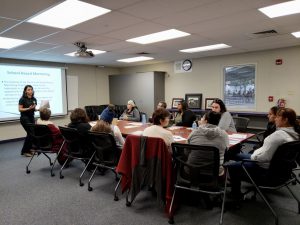 The first of two informational meetings for community volunteers willing to serve as mentors for students in the Denair Unified School District drew 11 people at lunchtime Thursday.
All filled out applications and soon will undergo background checks conducted by Sierra Vista Child & Family Services officials. The district is working with Sierra Vista to start the program as soon as February.
A second meeting for potential mentors is set for Tuesday at 5:30 p.m., also at the district office. It will be another chance for people to ask Sierra Vista representatives about the program.
Sierra Vista a nonprofit based in Modesto that operates a similar system with the 30,000-student Modesto City Schools District.
<Continue reading at DenairPulse>
Share this: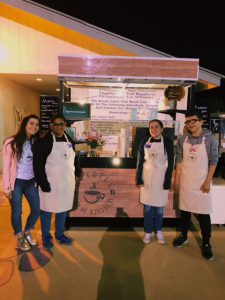 An inspired idea by Destiny Silva has created an inspiring experience for six of her special education students at Denair High School.
Silva is a paraprofessional at the school. Part of her mission is to help her students learn important job and social skills that will allow them to enter the workforce after graduation.
What better way than to have them team up on a small business with a big payoff. So was born the Coyote Cups of Kindness coffee cart. It was idea Silva conceived of over the summer that blossomed into reality beginning in November.
The concept is relatively simple. The students — Fernando Carrasco, Obed Gonzalez, Henry Johnson, Austin McGregor, Pearla Perez and Danielle Tigner – operate the coffee daily just outside the administration office and at special school-related events. They take turns at the various tasks – mixing the hot and cold drinks on the 10-item menu, working the cash register and stocking the mobile cart.

<Continue reading at DenairPulse>
Share this:
Decades from now, after the legend of this year's Denair High football team has been passed down from one generation to the next, the people who know the story best – the players and their coaches – no doubt will remember this: this special season was possible because each of them believed in the other without reservation. It was a team without apparent ego, everyone willing to sacrifice a little of himself for the greater good.
Saturday night, with purple-clad parents and students and proud alums, gathered to watch on a chilly night at Jack Lytton Stadium, Denair capped a dream season with a dominating 42-14 victory over Santee of Los Angeles for the California Division VII title.
The Denair Coyotes are state champions.
Sunday morning – after maybe four hours of sleep – it still hadn't quite sunk in for Coach Anthony Armas.
"It's pretty awesome," he said. "We always hoped for the best, but I don't think realistically we ever thought this could happen."
The title game against the best team from Southern California followed a familiar script: the Coyotes jumped out to an early lead, used their stable of multi-talented running backs to keep Santee's defense on its heels and its offense off the field, and made enough big plays of their own on defense to ground the Falcons.
Continue reading at DenairPulse.com
Share this:
High school and middle school students in the Denair Unified School District have a new ally in their efforts to prepare for, apply at and help pay for college.
It's called the California College Guidance Initiative. It is the state's official college and career planning platform, which is free to all California educators, students and families.
Thursday, Denair trustees unanimously decided to make the district one of the first in Stanislaus County to enroll in the program.
CCGI is a nonprofit — funded in part by the state of California — that partners with school districts across the state to advance local college and career readiness goals. CCGI wants all high school seniors in California to graduate with clear postsecondary goals and a plan for how to achieve them.
Its website is packed full of useful tools that allows students, their parents and school advisers to access all kinds of college-related information and requirements, upload transcripts and college-prep test scores, search for universities and application forms, take career profile surveys, and learn more about financial aid.
Each student – beginning as early as sixth grade — creates a profile that includes his or her coursework, academic accomplishments and even extracurricular activities. Students who aspire to attend a University of California, California State University or even a community college can see exactly what it will take to potentially be accepted.
If a family moves or a student changes schools, the profile follows him or her anywhere in California.
"One of the things I like as a parent and a principal is there is a parent portal," said Denair High Principal Kara Backman. "It's the same information for students, parents, teachers and administrators."
Continue reading at DenairPulse.com
Share this:
---
More about Denair
| | |
| --- | --- |
| Mr. Stavrianoudakis | Initiatives |
| | |
| Ag Spotlight | Community Spotlight |
| | |
| Robyn Hilton | Building Relationships |
| | |
| Community Commitment | Clubs & Athletics |
| | |
---
Air Quality Alert
---
The California Department of Education (CDE) is currently engaged in litigation with two non-profit associations comprised of parents and guardians of children with disabilities. The plaintiffs in that litigation have requested numerous documents, as well as student data collected and stored by CDE, which may include personally identifiable student information.
To comply with the Family Educational Rights and Privacy Act (FERPA), CDE has been ordered, among other things, to inform parents and students of the disclosure of such information. CDE has requested that school districts and SELPAs post the following link to CDE's website: http://www.cde.ca.gov/morganhillcase. The link provides a Notice and Objection Form to allow parents to object, by April 1, 2016, to the disclosure of personally identifiable information related to their children.
Please understand that the district is not a party to the litigation and is not required to disclose any student information, nor does it intend to do so. For more information, please contact CDE directly at (916) 319-0800.
District Office Hours
Mon-Fri
7:30am - 4:30pm
Mailing & Physical address
3460 Lester Road
Denair, CA 95316
Phone:
(209) 632-7514
Fax: (209) 632-9194
---
Superintendent
Dr. Terry Metzger
---
DUSD MISSION STATEMENT
Denair Unified School District empowers tomorrow's leaders through exemplary instruction and powerful innovative programs. Our exceptional school environments are the best educational choice for all students.
---