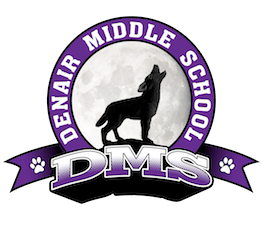 A former student with a talent for art is brightening up one of the walls at the Denair Middle School office.
Libby Martinez, a 2017 graduate of Denair High, spent part of Thursday and Friday painting a howling young coyote with the words "Denair is home." The mural graces what is familiarly known as the "detention wall" outside the principal's office (it's the place where students wait).
The project is the brainchild of first-year Principal Amanda Silva, whose oldest son, Hector Obando, graduated with Martinez.
"I reached out … and asked if Libby would consider painting a mural on an empty wall, depicting school spirit. Libby jumped right on it and less than 24 hours later, she is sketching and painting," Silva said Thursday.
"I got a text from her Wednesday asking if I'd do this," Martinez recalled. "It never went through my head to say no. It was, 'How am I going to do this before I go back to San Francisco?' "
Martinez is an art major at San Francisco State University. She moves back into the dorms next Thursday; school begins Aug. 27.
She expects to finish the mural no later than Monday. Thursday, she set up a projector in an office across from the wall, allowing her to trace the coyote and words on the wall. She then applied the first coat of semi-gloss house paint. She's using two shades of purple and brown as well as black, white and gray.
Friday morning, she put on a second coat of purple on the letters.
Continue reading Alumni Adds Splash of Color to Middle School Office →