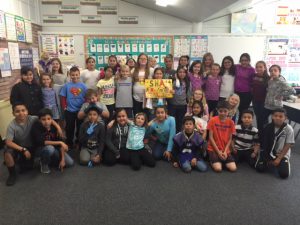 Spanish instructor Donna Williams has been one of the most popular, energetic and inspirational teachers on the Denair Elementary Charter Academy campus for many years. Her enthusiasm for her students – and her subject matter – bubbles through every lesson in each class.
So it should come as no surprise that when Williams returned from Christmas break this year with the idea to begin a Spanish-language service club, her students embraced it with the same excitement Williams brings to her work. That is to say, they loved it.
The Sociedad Hispanica de Amistad, known by the acronym "SHA," is national group affiliated with the American Association of the Teachers of Spanish and Portuguese. Williams attended a national conference for foreign language teachers in December. AATSP leaders were impressed to learn of DECA's commitment to teaching Spanish to every student and offered her a membership on the spot. She, in turn, was delighted to hear about SHA.
[Continue reading at DenairPulse.com]





---

Serenity Bailey's world has been anything but serene over the past year.
First was the news her mother had cancer – a traumatic event for any loved one, but especially a young girl. Then came the freak storm on November 15, when a category 1 tornado ripped through Denair and sent a massive eucalyptus tree crashing into the Bailey family's 100-year-old Victorian home on Zeering Road. Fortunately no one was hurt, but the house was destroyed and the family displaced. Then, a week after the tornado, Serenity and the entire Denair school community was stunned by the tragic news of Mark Selee's death. He was Serenity's fourth-grade teacher last year.
It was more bad news than most fifth-graders ever have to absorb in such a short time. According to Sara Michelena, Serenity's principal at Denair Elementary Charter Academy, the young girl has shown uncommon determination, resiliency and courage.
"She has continued to bounce back when others might not have done so," Michelena wrote in nominating Serenity for a countywide award.
[Continue reading at DenairPulse.com]





---
DECA Office will be closed for the Summer to reopen on July 28, 2016
Classes will start Thursday, August 11, 2016 for the school year 2016/2017
---
We are enrolling now for the 2016/2017 school year
Our academic program is unlike any other in our county, we have a dual immersion strand of education while also exposing all of our students to a variety of enrichment opportunities. Our program maintains the TK through Fifth grade structure, (TK eligible students are those with birthdays falling between September 2nd and December 2nd).
Students in grades Kindergarten through Fifth will be exposed to Spanish classes, music education (drama, choir, etc.), art education as well as academic intervention, English Language Development and other enrichment activities.
You can stop by our office (3773 Madera Ave, Denair) and request a registration packet to enroll your child in our school or you can download them from here. You can also drop any documentation you need to complete your child's registration at DECA for the next school year.
---
Denair Elementary State Preschool
We also have a State Preschool on the DECA campus! If you have any questions, feel free to call.
Registration (SCCEL): (209) 238-6400
Preschool Office: (209) 634-9468 Fax: (209) 632-8442
---
VISITOR POLICY
The school's security plan requires all visitors to the campus, including parents, to immediately proceed to the office and receive a visitor's pass to visit any school facility or communicate with any student or teacher. The school's security plan has been established to protect the students and teachers from the danger of an unauthorized person on the campus. For the safety of all students and teachers, please comply. Students are to refrain from communicating with, and are required to report, any person who attempts to communicate with them if they do not have a visitor's badge.
All visitors on campus are required to obtain a visitor's pass from the office; including, but not limited to: weekly classroom helpers, classroom and/or yard observers, parents attending field trips, class presentations, or special assemblies.