SAVE THE DATE
Back to School Night - September 2nd
5:45 p.m.-7:40 p.m.
---
---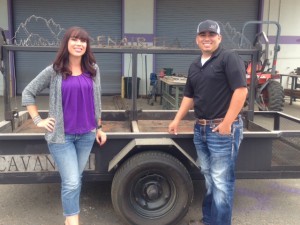 As Denair High School students and teachers anticipate classes resuming next week, nowhere is the excitement greater or expectations higher than in the ag department. Two new instructors have joined the staff, bringing with them energy and optimism that they can create the kind of program that will be a magnet for the brightest teens in and out of the district. Though school doesn't begin until Aug. 12, Matthew Marshall and Madison Weigel spent much of July getting to know their students, organizing lesson plans and strategizing about course offerings. The Stanislaus County Fair from July 10-19 gave them a perfect chance to interact with Denair's FFA students who were showing animals and a three-day FFA leadership retreat last week in San Luis Obispo was another opportune time to bond.
Now, Marshall and Weigel are ready to go.
"The community is itching for an ag program that will benefit students and keep them here in Denair," said Marshall, whose emphasis will be on ag mechanics, landscape management and ag science.
[Read more at DenairPulse.com]
---
---
2015-2016 Course & Class Selection Information
A-G Requirements 2015-2016
Grad Requirements 2016-18
Grad Requirements 2019
---
DenairPulse was created to share news about happenings in Denair, CA. The intent of this site is to promote positive news about the community, the schools and the people who make Denair a great place to live. We're hoping to post news items on a regular basis, to keep the community informed about events and news that matters to you.
---

Breakfast at DHS
Breakfast is FREE to all students. Breakfast is served in the Coyote Cafe from 7:30 to 7:55 a.m.
---
---
---
---
---
Nondiscrimination Statement - Denair Unified School District prohibits unlawful discrimination, harassment, intimidation, and bullying of any student based on the student's actual race, color, ancestry, national origin, ethnic group identification, age, religion, marital or parental status, physical or mental disability, sex, sexual orientation, gender, gender identity, or gender expression; the perception of one or more of such characteristics; or association with a person or group with one or more of these actual or perceived characteristics. El Distrito Unificado de Denair prohíbe la discriminación ilegal, el acoso, la intimidación y el acoso de cualquier estudiante en base a la raza del estudiante color, ascendencia, origen nacional, grupo étnico, edad, religión, estado civil o situación de los padres , discapacidad física o mental, el sexo, la orientación sexual, expresión sexual, identidad de género , la percepción de una o más de estas características, o asociación con una persona o grupo con una o más de estas características reales o percibidas.
Click here for more information