Upcoming dates for DHS
May 4th-Open House 6pm at DHS, Awards Night 7pm @ DMS Coyote Center
(Open house is open to all students! Come out and see what your child has been working on this year! If your child is receiving an award at awards night, they will receive a note from the school and a call home.)
May 10th and 11th-Disneyland for the senior's grad night trip
May 21st-Baccalaureate for the seniors @ 5pm at Connecting Point Church
May 26th -DHS Graduation Ceremony @ 7:30pm at the football stadium
---
Denair's March Toward Playoffs Continues With Hard-Fought 26-12 Victory at Mariposa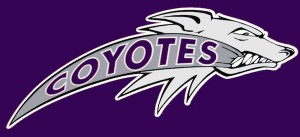 As frustrated as Denair coach Anthony Armas was with his offense after six first-half turnovers Friday night, he was equally delighted with his defense. He had a choice to make during the break: Criticize the offense or heap praise on the defense? Because, as everyone is well aware by now, those are the same players thanks to the Coyotes' small but tenacious roster.
"It is weird sometimes," Armas admitted. "I want to say something to one group, but then I realize they're the same kids playing both ways."
Armas settled for a reminder about ball security when Denair was on offense and told the Coyotes to keep doing what they had been doing on defense. The result? Denair rallied from a 6-0 halftime deficit against Mariposa, using three touchdowns by Justin Steeley to outlast the Grizzlies 26-12.
Continue reading "Denair's March Toward Playoffs Continues With Hard-Fought 26-12 Victory at Mariposa" »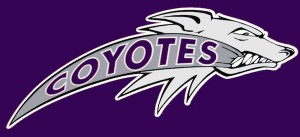 Those who underestimate the Denair football team do so at their own peril, as formerly unbeaten Delhi found out the hard way Friday night.
Fueled by a raucous homecoming crowd, the hard running of Justin Steeley and a defense flying all over the field at Jack Lytton Stadium, Denair played arguably its best game of the season. The Coyotes posted their third shutout in four games, winning 14-0 and positioning themselves for what once seemed like an improbable playoff spot with two games remaining.
Despite suiting up just 15 players, Denair dominated the Hawks, forcing seven turnovers on defense and doing just enough on offense with a backup quarterback to make Steeley's two touchdown runs hold up.
Continue reading "Underdog Denair Strikes Again, Hands Delhi First Loss" »
Armas goes from upset in Denair to Disneyland in a matter of hours
BY JAMES BURNS - jburns@modbee.com
Denair High School football coach Anthony Armas made a promise to himself before he took the job at his alma mater: Football wouldn't consume his life.
He would always make time for family and their adventures, even when they coincide with the biggest win of his young career.
The Coyotes spoiled Delhi's bid for a perfect season Friday evening, riding two Justin Steeley touchdown runs to a stunning 14-0 victory.
The win spices up the final few weeks in the Southern League, where front-running Orestimba (7-1, 5-0 WAC) suddenly has a clear path to second consecutive championship.
Continue Reading at ModestoBee.com
---
USA TODAY High School Sports recently brought you the story of Grant High in Van Nuys, which has scrapped its way to a 6-0 start to the season despite competing with just 20 players on its roster. As impressive as that Southern California feat is, it may be topped by another program farther up the state.
As reported by the
Modesto Bee
, Denair High has jumped out to a 4-2 record, racking up victories against both former Sac-Joaquin Section champion LeGrand by a score of 50-0 and 2015 Division VI semifinalists Ripon Christian 32-0. Both of those results would be surprising for a program that has just two winning seasons in 12 years, but they're stunning when you consider another factor: Denair is competing with just 14 players.
That's right. Forget a 20-man roster, Denair lists just 16 players in total and has had only 14 active in recent weeks. Nonetheless, the Coyotes' "Mighty 14" are on track to capture, potentially, both a Southern League crown and Sac-Joaquin Section playoff spot. Consider the fact that Blair High in Pasadena recently canceled the remainder of its season because it's roster shrunk to 20 players, and the Mighty 14 can seem almost like superheroes.
Nurse.org is offering their $1,000 Healthcare Leaders Scholarship to a deserving student accepted or enrolled in a medicine or healthcare-related program. Application is available at the website below.
DEADLINE: January 29th, 2017
http://nurse.org/healthcare-leaders/

Sixt rent a car company has an annual nationwide scholarship opportunity currently available. They will be awarding 5 students $5,000 toward their study at any 2 or 4 year accredited university. The link is posted below.
DEADLINE: November 30th, 2016
https://www.sixt.com/sixt-scholars/
---
Dates and details from the counselor, Mrs. Gresham:
CSU application process: October 1st - November 30th. accessible at csumentor.edu
CSU application workshop on campus: November 15th from 1-3PM in computer lab
FAFSA workshop on campus: October 18th in computer lab, time TBD
Cash for college night: Nov. 9th 5p.m.-7p.m. @ DCA computer lab
UC application process: November 1st- November 30th.
MJC application workshop on campus: November 16th from 1-3PM in computer lab
SAT test dates: October 1st, November 5th, and December 3rd. students register at sat.org
*the December test date is the last test date Seniors can test
Fee waivers are available with Kara for students who receive Free/reduced lunch
ACT test dates: October 22nd and December 10th. students register at act.org
*the December test date is the last test date Seniors can test
Fee waivers are available with Kara for students who receive free/reduced lunch
Week of December 5th I will be doing the schedule changes for students needing to change their schedules for 2nd semester. Exact dates TBD. Schedule changes will only be done for students needing to meet graduation requirements.
---
Meet the Principal
It is with great pleasure to introduce myself as your new Director of Secondary Education. My name is Kara Backman and this will be my 17th year in the education field, working as a teacher, administrator and education consultant. My husband, James and I have three amazing children, Kade, Kash and Jacee. Kade will be attending DECA in August as a Kindergartener in the bilingual program. My family is deeply rooted in the Denair community where both my husband and sister in-law graduated. The land where our family owned pig farm resides is the property in which my husband's grandfather homesteaded. I am firmly passionate about youth first, giving back to your community and purposefully growing your mindset through life-altering relationships.
We are going to have an amazing year as we focus on Building a Strong Culture and Climate for our high school community and fostering Academic Success through support and accountability. My work at Denair High School has already begun and is deeply entrenched in this transformation. I have been relentless about hiring the right "fits" for our student, staff and family community. My goal is to be fully hired by Coyote Call and we are well on our way!
---
New Cell Phone Policy
Per student and family request, we have adjusted the cell phone policy. I hope that this appeals to 100% of our student body. Please take a few moments to read the enclosed policy and partner with us to reinforce this new policy with your child.
Thank you for giving me this opportunity of partnership. I am excited about the year ahead of us.
---
"Student Password Changes
All returning students' passwords have been updated from seven characters to eight characters, by placing the number "9" in front of your existing password. For example, a student who previously had a password of 1234567, would now have a password of 91234567. Students new to the District for the 2016-17 school year, already have eight character passwords."
---
School Site Council
We are in need of members and parent participants to assist in the oversight of the Single Plan for Student Achievement are needed. Please email Mr. Dale Lovelace at dlovelace@pmz.com if you are interested.
---
IMPORTANT INFORMATION FOR SENIORS
ACT test registration information
---
Denair Pulse
DenairPulse was created to share news about happenings in Denair, CA. The intent of this site is to promote positive news about the community, the schools and the people who make Denair a great place to live. We're hoping to post news items on a regular basis, to keep the community informed about events and news that matters to you.
---

Breakfast at DHS
Breakfast is FREE to all students. Breakfast is served in the Coyote Cafe from 7:30 to 7:55 a.m.
---