DHS School in Action FULL
Minimum Days are Wed-Fri ONLY
Please note: Dates were modified from 2014-15 District Calendar
---
Winter Break is Dec. 22-Jan. 2nd. Classes resume Jan. 5, 2015
---
DENAIR HIGH SCHOOL would like to announce that Mr. Stavrianoudakis has been selected to represent DHS at the California League of High Schools Educator of the Year dinner. Congratulations Stav for this much deserved recognition!!!
---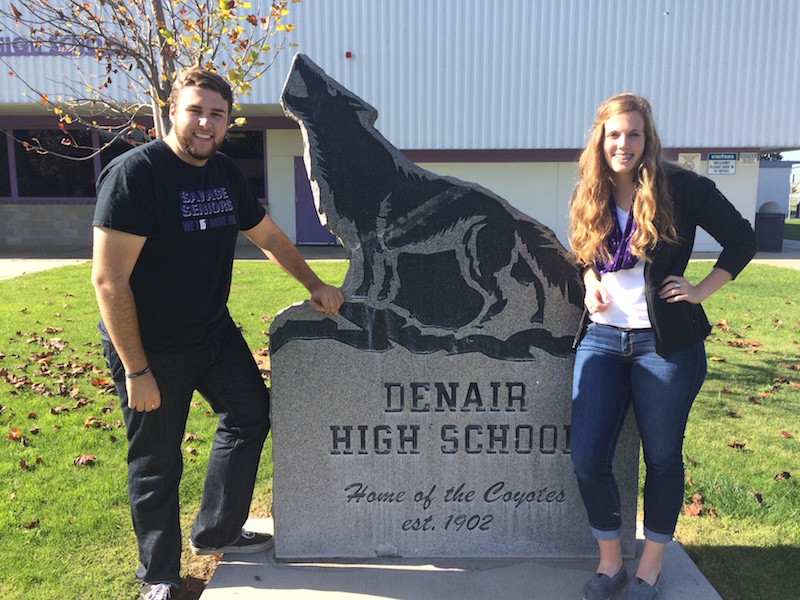 Two of Denair High School's brightest students have gained early acceptance into colleges in Oregon.
High-achieving seniors Anna Dirkse and Joel Thornton applied at multiple universities and likely would have been welcomed at many campuses. But both say they were thrilled when their first choices offered spots in next fall's freshmen class early on in the process.
Dirkse, 17, was accepted at George Fox University in Newberg, about 25 miles south of Portland. It is a small, private Christian college known for its engineering program, though she's leaning in other directions.
"I don't know what I'm going to major in – maybe arts or communications or English," said Dirkse, who has a 4.43 grade point average. "I just applied to an honors program there that studies great works of literature and how they affect culture."
[Read more at DenairPulse.com]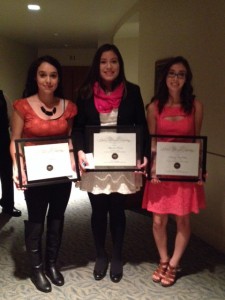 Three students at Denair High School have earned prestigious recognition for their bilingual speaking and writing abilities.
Seniors Maria Martinez and Kimberly Perez Pulido and junior Alejandra Parada were awarded the coveted Seal of Multilingual Proficiency in a ceremony Wednesday night at the Gallo Center for the Arts in Modesto. The designation will be specially noted on their high school diplomas, certifying that they are fluent in English as well as Spanish.
This important recognition helps graduates when they apply to colleges, compete for scholarships or submit job applications.
[Read more at DenairPulse.com]
---
NEW Scholarship Opportunities Available
Clink on the "Academic Counseling" tab at the top of this page and check out the Scholarship & Financial Aid information. In addition, check the scholarship board in the office for additional opportunities.
---
Calling Recent Denair High Graduates!!!
The high school is currently conducting a survey from DHS graduates. We are looking to track students that have graduated within the last ten years. The survey is a quick 15 question on-line format.
Thanks for the help.

DHS Graduate Survey Link

---
Apply Now For 2015-2016 MJC Scholarships!
The date for priority consideration – November 15, 2014.
Final deadline – December 12, 2014 at 5 pm!
Link to scholarships - http://www.mjc.edu/studentservices/finaid/mjcscholarships.php
To qualify for scholarship consideration at Modesto Junior College students must meet the minimum criteria:
Have a 2.5 or higher gpa (non-weighted)
Have 12 units completed by the end of the Fall 2014 semester (does not apply to current high school seniors)
Be a student in good standing at Modesto Junior College or high school
Submit a complete application, adhering carefully to all instructions
Plan to enroll as a full time student (12 units) Fall 2015
Have an active MJC college email (@student.yosemite.edu)
For questions or more information please contact the MJC Scholarship Office at 575-7715 or email clarkme@mjc.edu
---
---
---
DenairPulse was created to share news about happenings in Denair, CA. The intent of this site is to promote positive news about the community, the schools and the people who make Denair a great place to live. We're hoping to post news items on a regular basis, to keep the community informed about events and news that matters to you.
---
Tutoring
After school tutoring is available every Tuesday from 3 to 4 p.m. in the library computer lab with Ms. Schuchterman and every Thursday from 3 to 4 p.m. in Room 405 with Mrs. Hilton.
---

Breakfast at DHS
Breakfast is FREE to all students. Breakfast is served in the Coyote Cafe from 7:30 to 7:55 a.m.
---
---
---
2014-15 Class Registration
Course Directory 2014-2015
A-G Requirements 2014-2015
Grad Requirements 2015+
4-year plan 2015+
---
Midterm Study Guide
---
Nondiscrimination Statement - Denair Unified School District prohibits unlawful discrimination, harassment, intimidation, and bullying of any student based on the student's actual race, color, ancestry, national origin, ethnic group identification, age, religion, marital or parental status, physical or mental disability, sex, sexual orientation, gender, gender identity, or gender expression; the perception of one or more of such characteristics; or association with a person or group with one or more of these actual or perceived characteristics. El Distrito Unificado de Denair prohíbe la discriminación ilegal, el acoso, la intimidación y el acoso de cualquier estudiante en base a la raza del estudiante color, ascendencia, origen nacional, grupo étnico, edad, religión, estado civil o situación de los padres , discapacidad física o mental, el sexo, la orientación sexual, expresión sexual, identidad de género , la percepción de una o más de estas características, o asociación con una persona o grupo con una o más de estas características reales o percibidas.
Click here for more information