Upcoming Events:
Battle of the Sexes Rally - March 13
Sadie Hawkins Dance - March 20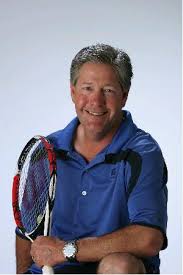 Bill Weber teaches tennis. To children as young as 3 and seniors as old as 88. To players who have never gripped a racquet all the way to tournament competitors. His office can be a city park, a private club or, this spring, the purple courts at Denair High School.
He is a tennis lifer. He's been teaching the sport for 30 years and, at age 57, can't imagine doing anything else.
Recently, he was named the 2014 Independent Teaching Professional of the Year by the U.S. Professional Teaching Association, an international organization with more than 13,000 members. He was singled out as the best in Northern California, a region that stretches from Fresno to the Oregon border.
Weber consistently has earned praise for his innovative teaching techniques, especially with children. He uses a method developed in Europe that uses smaller racquets, a shorter court, lower nets and modified balls to introduce kids to the game. As young players gradually get bigger and stronger, they move to the regular court.
[Read more at DenairPulse.com]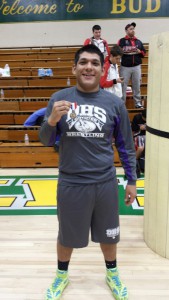 Flashing what his coach described as a "brute strength kind of move," Luis Mendoza got the ultimate payback against a tough wrestling opponent – a pin.
The result was a third-place finish Saturday for the Denair High School senior at the Sac-Joaquin Section Division V Championships and a trip to this week's Masters Meet. It also touched off an enthusiastic celebration by his Coyotes teammates at the Sonora High gym.
Mendoza, competing at 197 pounds, was the only Denair wrestler to survive the rugged two-day tournament. The top four in each weight class advanced to the Masters. The next closest Coyote was Richard Richards, who finished sixth at 140 pounds.
[Read more at DenairPulse.com]
Congratulations to our Academic Decathlon Team which placed 3rd out of 12 schools at the annual Stanislaus County meet on Feb. 7th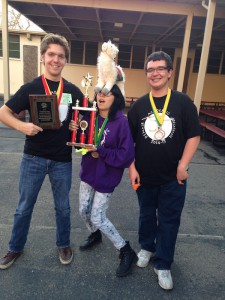 Jennifer Calderon said she didn't feel comfortable as she began the interview portion of the 35th annual Stanislaus County Academic Decathlon on Friday.
You sure couldn't tell from the results.
Calderon was one of three Denair High School students to win gold medals as the Coyotes finished an impressive third overall. Lewis Koehn and Noah Johnson also earned individual championships for Denair, which was the highest-performing small school for the fifth year in a row.
Oakdale and Ceres – schools with many times the enrollment of Denair – finished first and second, respectively, out of 12 high schools.
The event began Friday night with the speech and oral interview competitions at Enochs High School in Modesto. It finished Saturday afternoon when hundreds of the area's brightest students converged on the Modesto High School gym for individual tests in math, language and literature, economics, science, social science, art and music.

A decade before she became a popular first-year science teacher at Denair High School, Breanna Vaughan was a standout goalie on the California State University, Stanislaus women's soccer team just a few miles west on Monte Vista Avenue.
From 2002 to 2005, Vaughan was a force in the net for the Warriors. She was a three-time California Collegiate Athletic Association all-conference choice and still holds four school career records – shutouts (27.5), saves (319), victories (45) and minutes played (nearly 7,300). She has 11 single-season records, including most shutouts (10).
In 2005, she led the Warriors to their first-ever CCAA tournament appearance.
Last weekend, Vaughan's stellar career was recognized again when she became the first women's soccer player to be enshrined in the CSU Stanislaus Athletic Hall of Fame.
[Read more at DenairPulse.com]
---
NEW Scholarship Opportunities Available
Clink on the "Academic Counseling" tab at the top of this page and check out the Scholarship & Financial Aid information. In addition, check the scholarship board in the office for additional opportunities.
---
NCAA Student Athlete Guide 14-15
---
DenairPulse was created to share news about happenings in Denair, CA. The intent of this site is to promote positive news about the community, the schools and the people who make Denair a great place to live. We're hoping to post news items on a regular basis, to keep the community informed about events and news that matters to you.
---
Tutoring
After school tutoring is available every Tuesday from 3 to 4 p.m. in room 407 with Mr. Hess and Wednesday from 3 to 4 p.m. in the Chem Lab with Ms. Vaughan.
---

Breakfast at DHS
Breakfast is FREE to all students. Breakfast is served in the Coyote Cafe from 7:30 to 7:55 a.m.
---
---
---

2015-16 Class Registration
Course Directory 2015-2016
A-G Requirements 2015-2016
Grad Requirements 2016+
4-year plan 2016+
---
---
Nondiscrimination Statement - Denair Unified School District prohibits unlawful discrimination, harassment, intimidation, and bullying of any student based on the student's actual race, color, ancestry, national origin, ethnic group identification, age, religion, marital or parental status, physical or mental disability, sex, sexual orientation, gender, gender identity, or gender expression; the perception of one or more of such characteristics; or association with a person or group with one or more of these actual or perceived characteristics. El Distrito Unificado de Denair prohíbe la discriminación ilegal, el acoso, la intimidación y el acoso de cualquier estudiante en base a la raza del estudiante color, ascendencia, origen nacional, grupo étnico, edad, religión, estado civil o situación de los padres , discapacidad física o mental, el sexo, la orientación sexual, expresión sexual, identidad de género , la percepción de una o más de estas características, o asociación con una persona o grupo con una o más de estas características reales o percibidas.
Click here for more information