Course Directory 2015-2016
A-G Requirements 2015-2016
Grad Requirements 2016-18
Grad Requirements 2019
---
NEED HELP?
Parent and Student Scheduling Workshop
Wednesday, April 22nd at 6:00pm
Middle School Computer Lab (Adminstration Building)
---
DHS Sports Boosters Host "Jeans and Jersey" Fundraiser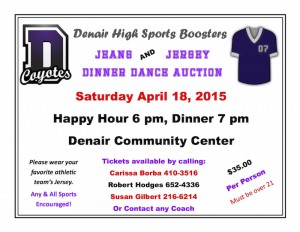 Denair High School Sports Boosters are hosting a Jeans and Jersey dinner, dance and auction on Saturday, April 18, 2015. Happy Hour starts at 6:00 pm, with dinner following at 7:00 pm, at the Denair Community Center. Attendees are encouraged to wear their favorite athletic team's jersey to the event.
Tickets are $35.00 each and attendees must be at least 21 years of age to attend. Tickets can be purchased by calling Carissa Borba at (209) 410-3516, Robert Hodges at (209) 652-4336 or Susan Gilbert at (209) 216-6214. Additionally, you may contact any DHS coach for tickets.
---
Local Scholarship Opportunities NOW Available
Stop by the office to pickup a variety of scholarship applications available from local clubs and businesses!
---

High School Sophomores/Juniors may apply to all of the CLYLP programs. This is very exciting news!

The application is available at http://clylp.org/programs/high-school-program-application

The deadline to apply to ALL CLYLP Highs School Programs is Wednesday, May 6th at 12:00 Noon

Please note some significant changes for program application process:

A top priority is to fill every roster of all of the CLYLP program sites

All students can apply to multiple programs with their application - They will automatically be offered the option to select within eligible programs based on their home address. (Students may apply to both their regional conference and the Sacramento Leadership Conference)

The deadline to apply is 12:00 Noon on Wednesday, May 6, 2015.
---
DenairPulse was created to share news about happenings in Denair, CA. The intent of this site is to promote positive news about the community, the schools and the people who make Denair a great place to live. We're hoping to post news items on a regular basis, to keep the community informed about events and news that matters to you.
---
Tutoring
After school tutoring is available every Tuesday from 3 to 4 p.m. in room 407 with Mr. Hess and Wednesday from 3 to 4 p.m. in the Chem Lab with Ms. Vaughan.
---

Breakfast at DHS
Breakfast is FREE to all students. Breakfast is served in the Coyote Cafe from 7:30 to 7:55 a.m.
---
---
---
---
Nondiscrimination Statement - Denair Unified School District prohibits unlawful discrimination, harassment, intimidation, and bullying of any student based on the student's actual race, color, ancestry, national origin, ethnic group identification, age, religion, marital or parental status, physical or mental disability, sex, sexual orientation, gender, gender identity, or gender expression; the perception of one or more of such characteristics; or association with a person or group with one or more of these actual or perceived characteristics. El Distrito Unificado de Denair prohíbe la discriminación ilegal, el acoso, la intimidación y el acoso de cualquier estudiante en base a la raza del estudiante color, ascendencia, origen nacional, grupo étnico, edad, religión, estado civil o situación de los padres , discapacidad física o mental, el sexo, la orientación sexual, expresión sexual, identidad de género , la percepción de una o más de estas características, o asociación con una persona o grupo con una o más de estas características reales o percibidas.
Click here for more information