Summer School registration is still available. Take advantage of the opportunity to make up college prep classes and stay on track for graduation. College prep courses are available through an on-line independent study program. Excellent chance to keep up with your A-G requirements for UC & CSU campuses. Please see Mr. Edwards for paperwork as soon as possible. The program operates on a first come, first serve basis.
---

Upcoming Events for DHS Seniors:
Graduation - May 29th @ 7:30 p.m.
---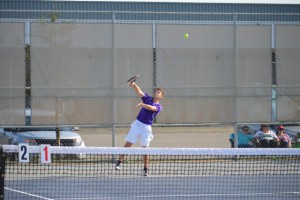 Denair's Brian Dudley won the boys singles championship and was named the Southern League's Most Valuable Player at the recent tennis tournament. Andrew Knapp and Abi Wilson brought the Coyotes a second title with their victory in mixed doubles.
Dudley, a senior, defeated Jake Van Vuren of Ripon Christian 6-2, 6-1 at the Merced College courts to extend his unbeaten record to 18-0 this season. He will be the Southern League's top seed when the Sac-Joaquin Section individual tournament begins Thursday at Oak Park in Stockton.
Knapp, a senior, and Wilson, a sophomore, knocked off a team from Delhi to win their championship. The tournament was the first time this season the Denair duo had played mixed doubles this year. That came about after both suffered their first losses of the season in the semifinals of the singles tournament.
[Read more at DenairPulse.com]
Denair High School continues to perform well above the state and county averages in graduating its students, according to CA Graduation Statistics by the California Department of Education.
In 2014, 74 of 79 seniors graduated from Denair High, a rate of 93.7%. That compares to a statewide average of 80.4% and a Stanislaus County graduation rate of 82%.
"Student graduation rates reflect the dedication of our community and schools to the education and success of our students. No child left behind is not a platitude or vacant slogan at Denair schools but, rather, a practice and commitment to our students," said Aaron Rosander, superintendent of the Denair Unified School District.
Denair has long been one of the high-achieving high schools in the county when measured by graduation rates and student performance. The rate was 98.7% (75 of 76) in 2013, 98.8% (84 of 85) in 2012 and 100% (74 of 74) in 2011.
[Read more at DenairPulse.com]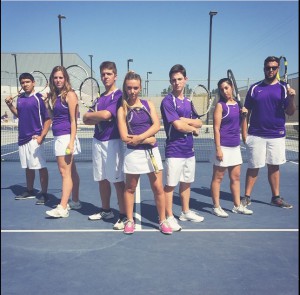 Bill Weber's goal was to teach Denair High School tennis players enough about the game so they could compete for a Southern League championship this season. A little education about classic rock bands from the '70s was a bonus.
Mission accomplished on both ends.
The Coyotes (12-3) battled for the top spot in the SL all spring before finishing second behind Ripon Christian High School (13-2) – a squad whose only two defeats came to Denair. The only things separating Denair from at least a piece of the league championship were two losses to Delhi, which finished third.
Weber is a longtime coach with a lengthy record of success at many levels. This is his first season at Denair and he said he especially enjoyed watching his players – some with limited competitive experience in tennis – blossom along the way.
His goal is to make the sport fun. To that end, he often incorporates music from his own high school days – the 1970s – into practices. This spring, the Coyotes were exposed to rock anthems from power bands like Boston, Kansas, REO Speedwagon and Queen.
[Read more at DenairPulse.com]
---

DUE Friday May 1, 2015
Course Directory 2015-2016
A-G Requirements 2015-2016
Grad Requirements 2016-18
Grad Requirements 2019
---
---

---
DenairPulse was created to share news about happenings in Denair, CA. The intent of this site is to promote positive news about the community, the schools and the people who make Denair a great place to live. We're hoping to post news items on a regular basis, to keep the community informed about events and news that matters to you.
---
Tutoring
After school tutoring is available every Tuesday from 3 to 4 p.m. in room 407 with Mr. Hess and Wednesday from 3 to 4 p.m. in the Chem Lab with Ms. Vaughan.
---

Breakfast at DHS
Breakfast is FREE to all students. Breakfast is served in the Coyote Cafe from 7:30 to 7:55 a.m.
---
---
---
---
Nondiscrimination Statement - Denair Unified School District prohibits unlawful discrimination, harassment, intimidation, and bullying of any student based on the student's actual race, color, ancestry, national origin, ethnic group identification, age, religion, marital or parental status, physical or mental disability, sex, sexual orientation, gender, gender identity, or gender expression; the perception of one or more of such characteristics; or association with a person or group with one or more of these actual or perceived characteristics. El Distrito Unificado de Denair prohíbe la discriminación ilegal, el acoso, la intimidación y el acoso de cualquier estudiante en base a la raza del estudiante color, ascendencia, origen nacional, grupo étnico, edad, religión, estado civil o situación de los padres , discapacidad física o mental, el sexo, la orientación sexual, expresión sexual, identidad de género , la percepción de una o más de estas características, o asociación con una persona o grupo con una o más de estas características reales o percibidas.
Click here for more information