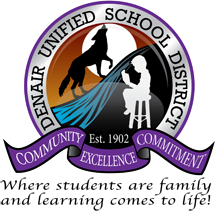 Terry Metzger is an optimist. But the new Denair Unified School District superintendent also is a realist. It will take a clear, credible, honest message to gain enough community support to pass a parcel tax next spring – the linchpin in the district's two-part vision to restore salaries and recruit teachers to propel education forward.
The second piece of that vision involves transforming DUSD into a charter district, which would allow greater flexibility in programming and teacher assignments.
Earlier this month, Metzger held town hall meetings with community members and staff to explain how the concepts support the long-term goals of the district and to listen to questions and comments.
Thursday night, she reported on the meetings to the district's Board of Trustees.
Part of the conversation, Metzger explained, was asking those in attendance to participate in "vision casting." She asked her audiences to finish two open-ended sentences:
"When my child graduates …"
"A great school …"
Respondents used words and phrases like "competence," "employable," "prepared for a global world," "community leaders," "internally motivated," and "passionate and compassionate" to complete the first sentence.
For the second, they said characteristics of a great school include "high expectations," "accountability for everyone," "are inviting and inclusive," "prepare students for college and life," "are safe and stable," "have excellent staff," "are innovative," "support parents and families" and "have a sense of community voice."
Potentially passing a parcel tax and adopting a districtwide charter are two ways to boost the quality of education in Denair.
Metzger describes the parcel tax as a way "launch the vision" by restoring salaries that were slashed in 2013. Though the district's finances have since stabilized and overall enrollment has grown, longtime employees still are paid today about what they were 11 years ago.
"It would be a short-term community investment in DUSD that will bring long-term community benefits," she explained at the Sept. 4 meeting.
Continue reading Community Discussions Generate Many Good Ideas; Denair Trustees Take Next Steps Toward District Charter →