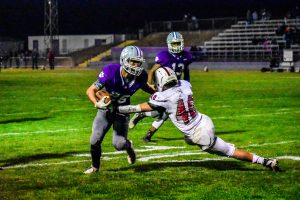 Brimming with confidence and riding a six-game winning streak, this year's Denair football is poised to do something no other team in Coyote history has accomplished – win a Sac-Joaquin Section championship.
Denair, the No. 1 seed in Division VII, earned its place in Saturday's title game with a 39-18 victory Friday night over Southern League rival Gustine.
The Coyotes (10-1) next will play third-seeded Golden Sierra (8-4), who knocked off No. 2 Big Valley Christian 24-14 in Modesto.
The championship game kicks off at 1 p.m. Saturday at Liberty Ranch High School in Galt.
"It's exciting. It's special that we have a chance to play for Section title," Denair Coach Anthony Armas said Monday during practice.
Armas was an assistant on the last Denair team to make the Section Division VI finals, in 2006. The Coyotes lost to Lindhurst 30-7 that season. The team they beat in the semifinals? Golden Sierra.
The Grizzlies returned the favor in 2007 playoffs, knocking off Denair in the first round, so the two schools have some history – even if this year's players were in first and second grade then.
Like Denair, Golden Sierra likes to keep the ball on the ground. Both teams average nearly 40 points and more than 300 yards rushing a game.
To continue reading: Top-Ranked Denair to Play for Section Division VII Title
---
No. 1 Denair Will Host Southern League Rival Gustin in First Home Football Playoff Game Since 2007
It will be a Southern League rematch in the second round of the Sac-Joaquin Section Division VII football playoffs.
Top-seeded Denair (9-1) vs. No. 4 Gustine (6-5), with a spot in the championship game at stake. Kickoff is at 7 p.m. Friday at Jack Lytton Stadium.
The teams know each other well and played Sept. 28 in Gustine. Denair, trailing 14-7 at halftime, ambushed the Reds with six touchdowns in the second half to win 49-14 and ruin Gustine's homecoming.
That victory launched the Coyotes on a five-game winning streak that earned them solo second place in league behind unbeaten Ripon Christian, the coveted No. 1 seed in the playoffs and a first-round bye last week.
Continue Reading at DenairPulse.com
Share this:
---

Join Wylie Coyote & Santa Claus in their union. You too can marry your Coyote Pride with your Christmas Spirit, and help light up the holidays by joining the students & staff of DUSD with the Christmas Float.
For the second year, Denair Unified School District is participating in the annual Turlock Downtown Christmas Parade. Please join us in decorating our Coyote Christmas Float by visiting the Wylie Coyote Registry link. We've added specific items that are needed in order to make our float a success. If you are interested in helping, please only purchase those specific items listed on the registry, for purpose of consistency. Gift-cards to either Amazon or Home Depot are also accepted for the purchase of these specific items. Students/parents may drop off items at your site's front office or at the district office by Tuesday, November 20th. Please see link to registry where specific items needed are found: Registry - Wylie Coyote

The parade will be on Friday, December 7th at 6:30pm so mark your calendars!

Thank you in advance for your support! Denair Unified School District

---

Denair Scores Early and Often in 36-6 Homecoming Win

DENAIR – There are fast starts … and then there are faster starts.

Friday's 36-6 Denair blowout of Delhi clearly falls into the second category.

The Coyotes scored on four of their first five plays of the game, built a 29-0 lead at halftime and coasted the rest of the way in front of a raucous homecoming crowd at Jack Lytton Stadium.

To make the night even better, the Coyotes got some help from Orestimba, which knocked off Waterford. The left Denair alone in second place in the Southern League standings and firmly in control of its own playoff destiny with two weeks left in the regular season.

The Coyotes (7-1 overall, 4-1 in the league) play at Mariposa this week before hosting Waterford on Oct. 26.

Unbeaten Ripon Christian (8-0, 5-0) – which beat Denair 35-7 four weeks ago – is cruising to the Southern League title. But two more victories would assure Denair of second place all alone and, more importantly, a high seed and home game when the Sac-Joaquin Section Division VII playoffs begin Nov. 2.

---

Denair Unified Trustees Will Not Seek Parcel Tax or Write New charter to Cover All Campuses

The Denair Unified School District Board of Trustees reversed course Thursday night, abandoning plans to seek a parcel tax next year and write a new districtwide charter for all grades.

The decisions came after back-to-back presentations by Superintendent Terry Metzger and Chief Business Officer Linda Covello, who briefed the board and the audience. Trustees began exploring the two concepts earlier this year.

The parcel tax was pitched as a way to restore employee salaries that were slashed by as much as 11% during budget cuts in 2013 and have not been fully reinstated. It would have added $85 to $95 annually to each property owner's tax bill for no more than five years.

During multiple town hall meetings and conversations with staff, parents and other community members, Metzger came to realize there was not nearly the level of support needed for the parcel tax to pass. It would have required two-thirds approval of those who voted.

"Public support of a parcel tax today does not seem to match the earlier reports" said Metzger, referring to a phone poll of potential voters completed in the spring.

She also cited concern from employees who live in the district and felt it would be unfair for them to be taxed more to increase their own salaries.

In addition, the district would have had to bear the cost of a special election, estimated at up to $50,000.

After the presentation, trustees reaffirmed their commitment to restoring salaries as soon as it is fiscally sustainable. They directed Metzger and Covello to review this year's budget in an effort to find potential savings that could be applied to pay as well as approach next year's budget with salary restoration as a priority.

Continue reading Denair Unified Trustees Will Not Seek Parcel Tax or Write New charter to Cover All Campuses

---

More about Denair

| | |
| --- | --- |
| Mr. Stavrianoudakis | Initiatives |
| | |
| Ag Spotlight | Community Spotlight |
| | |
| Robyn Hilton | Building Relationships |
| | |
| Community Commitment | Clubs & Athletics |
| | |